It is another remarkable story, the story of Julie van Espen (23) and her killer Steve B. The story is of course immediately reminiscent of the Dutch Anne Faber (25) and her killer Michael P., but then it's all a bit faster expired. Are we again dealing with a psychological operation (PsyOp) from which new legislation must be implemented across Europe, or at least in Belgium too? It is certain that we see images in the media and that those images convince us.
In several articles I described why the Anne Faber case (in which Michael P. was the perpetrator) was most likely a PsyOp (psychological operation). An operation to push through more legislation. Let me start by explaining again how the media play this PsyOp game and what the Problem, Reaction, Solution maxim is that it seems to be applied time and time again and then to see what we see of this in the Julie van Espen and Steve B. case.
Problem, Reaction, Solution
What is that maxim then Problem, Reaction, Solution? What you as a government then do is: You create a social problem with great impact (Problems) provokes a fierce emotional reaction among the people (Reaction) and can implement new laws and measures that would normally never be accepted (Solution). You then package that in words such as "The government has failed in the protection that society can expect from it", As recently came from the Dutch minister Sander Dekker.
Deep Fakes
"Yes, but Anne Faber really existed. We have seen so many photos of her and we have seen her parents in the picture and there is enough evidence in the form of photos and videos that she existed. She worked here and she did sister and stuff. We have seen her parents, we have seen so much evidence!"We can now say the same of Julie van Espen. They may have really existed, but if you know who owns the Dutch press agency, the ANP for example, then you also know what big money is behind it and what technical means could be available to make deep fakes. It is not without reason that John de Mol (owner of ANP) is a TV producer and billionaire. Nowadays, with AI (artificially intelligent) software, you can easily create non-existent people, take photos and videos of what they looked like as a child, and thus create an entire social network including history with images and sound material. That is already possible on an average PC that you have at home; let alone what the professionals can do. Have a look at the video below to discover how this works (and then continue reading below the video).
It was so obvious that stricter restrictive legislation was imminent in the Anne Faber case, that an overdose of emotionally stimulating media was brought in to get the people into the Reaction to convince phase. Emotion always works well and so you can use actors to play the parent role and so stimulate the emotion. Who will say? Who will recognize them? Nobody, because they can be unrecognizable in real life and everything will be boarded up with (mainly) the social media state-role army who will say "I know that person because it is a knowledge of" or "it's a colleague of". Who controls media and social media, can color and change the entire perception of reality. Take a look at the video below to discover how that works with deep fakes. So you can make faces out of the blue and put them live over an interview with an actor, so that your 'father' or 'mother' can completely fake. That is also possible for a group of people, because then you do that through greenscreen. Finally, you can also work with large groups of compromised actors or Inoffizieller Mitarbeiter. Michael P. does not really have to exist, Anne Faber can be created by means of deep fake software and the interviews with her parents can also be easily faked. The same applies to the social media profiles that you approach in a discussion. (Read further under the video)
Question marks at Anne Faber case
"But Vrijland, the murder of Anne Faber could just as well have really happened?"Yes, you can, only in the series of articles that I wrote about that (see here) It has become clear that it has turned out to be a very unlikely story. Which young woman gets on a bicycle to start with a storm predicted and then starts cycling an ANWB route and why was her coat found on 3 October and did it take 6 days for a DNA match with Michael Panhuis to be realized? That is simply not correct. The NFI can do that to do in 6 hours. Why did Michael spread all found objects around and what about his being? scooter ride with Anne Faber behind? Why was she first buried and then cremated and then again to be buried? Why were forensic and autopsy report not shown in the court case? Oh well, and there have been many more oddities in this case, but mainly because you have seen the images of emotional parents, you have come to believe in it. The exciting storyline plus treasure hunt (Problems) emotionally affected the people enormously and so it became in the Reaction in order to embrace the new legislation (Solution). This can now be done by your child or happen to yourself too:
Dekker calls it 'very undesirable' that suspects who need treatment in TBS that can escape by not cooperating with investigations and that this can no longer happen.

In addition, a structured risk assessment and a crime analysis are made mandatory. Societal risks when granting freedoms to detainees become more important.
In short: research into the psychological state becomes mandatory and then we think of Michael Panhuis and so we are convinced of the necessity. The fact that for many citizens this may mean that they will be placed at the disposal of the state for life (and thus lose all human rights), after having undergone a mandatory examination, means that anyone who wants to psychiatically write off can be referred to. So more police state.
Emotional play
The case of Anne Faber and Michael P. therefore stinks like an hour in the wind and it seems strongly that the story has been staged on a large scale with the cooperation of the judiciary, media and politicians to simply push through new legislation that would never be accepted by the people. By playing the people heavily on the emotion, the masses are convinced to be in favor of such a change of law, because everyone links it to the monster Michael P.
The media has convinced us that it would all be true, but we will never be able to check it ourselves and we must assume that we are not playing with Hollywood techniques. The result is that people can be put away psychiatrically without reason and can disappear into their guilt all their lives, because the legislation no longer protects them.
And what about Julie van Espen and Steve B.?
What is immediately noticeable is that the police signal Steve B. is the following text on vrt.be:
According to our information, the images would have been photoshopped in the interest of the investigation before they were distributed as an investigation report (see photo below, left the photo-shoped image - right the original camera image). The police would immediately have known that he was not just "a witness".
Why would the police have "shopped away the basket that Steve B. was carrying" in the interest of the investigation? You could say that they did so in order not to demotivate any witnesses, but you could also say that they already knew that Steve B. could be linked to Julie's missing because he was walking around with her basket . You could also say: here we see the living proof of how easily images can be manipulated and we also see here the proof that this is happening.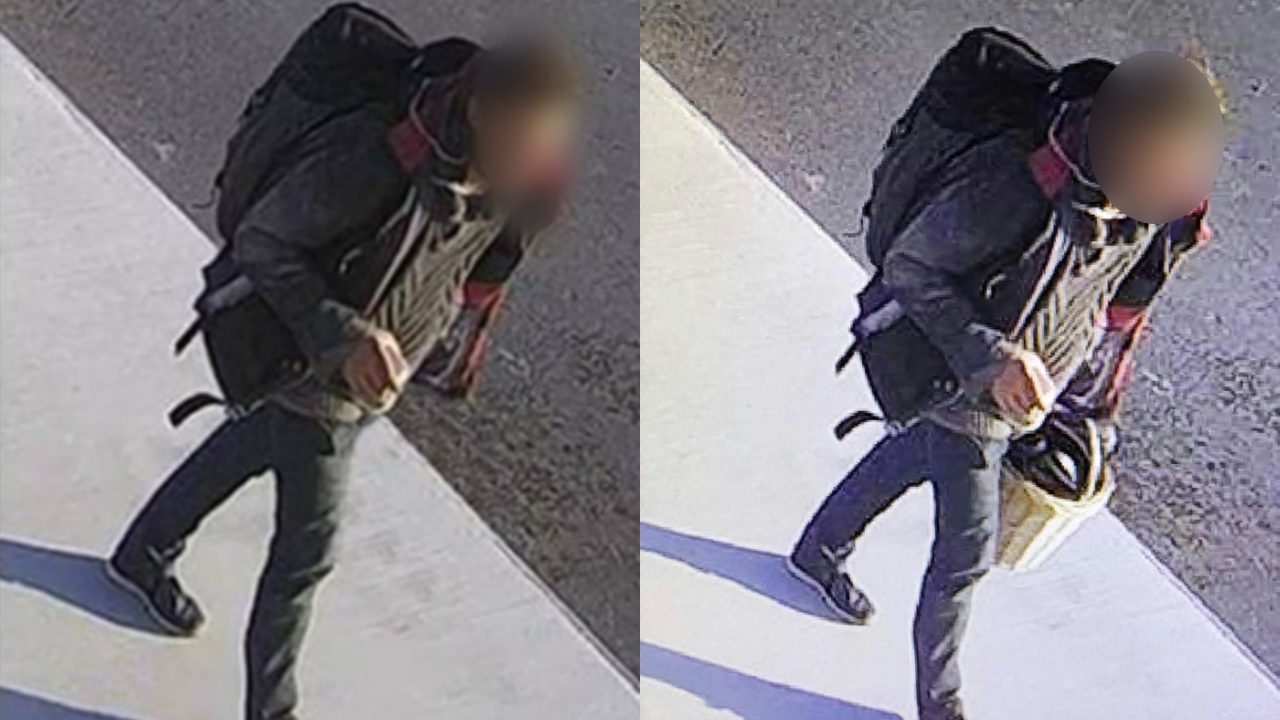 source: vrt.be
What is even more striking is that it is not the father of the victim who is speaking, but the stepfather. In the Anne Faber case we saw an uncle who was the first to speak. Only later did the parents start appearing. I keep pointing out the option of deep fakes and actors, where images can be manipulated live and a new face can easily be placed in an interview (including voice overlay). The social media army that is ready to say "it was a friend of or knowledge of .."Convinces the masses to dispel the last doubt.
The "Solution"
In the search for Julie there has been a large-scale call for a citizen search. This is presumably to make the social impact great and to focus all the attention of the people on the matter. Of course this offender also appears to have a rape past and so you can take it for granted that we are here again Problem, Reaction, Solution see action, with new legislation (also in Belgium) that everyone can hold for longer or impose psychiatric treatment (whether the psychiatrist considers this necessary or not). The Default.be reports:
"The court sentenced the defendant to a four-year prison sentence for rape and theft." That's how it sounded almost two years ago, on 30 June 2017, at the Antwerp Court. Yet Steve B. did not go to jail that day. The public prosecutor asked for his immediate arrest, but the court did not respond to this.

B. also appealed his conviction. As a result, she was not final and he remained free until a judgment was appealed.

An aunt testifies that, thanks to her, he was released under certain conditions. "His psychiatrist had come to talk to me," says the woman, who wants to remain anonymous. "He didn't see Steve as a criminal. That boy just needs help, he thought. And if we could give him that? We did that. "
In this you can actually alreadySolution' read. Probably after this case the people will be convinced of the end of release when filing an appeal and the judge (not more, but only 1) must judge whether or not someone should be locked up in a clinic. That such legislation can then affect everyone is flooded by the tidal wave of emotion with which the masses in such a (suspected) PsyOp case are played.
Also read the comments under this article for additions. Do you want to read the entire Anne Faber file, click here.
Source link listings: vrt.be, standard.be
Tags: Anne, Belgium, F, featured, Julie van Espen, basket, Michael, moord, moordenaar, murder case, The Netherlands, Dutch, operation, P., Photoshop, psychological, psyop, Steve B., rapist, rape, missing